Hitesh has been working with us as part of Google Summer of Code. Prior updates: intro, first update.
Hello everyone!
A lot of work was done this month and hence the third blog post. So continuing from my last blog post, here's a quick overview of what's been accomplished so far:
Introduced a new data quality check to capture if there are too many people associated with a post or too few people associated with a post. Here's a peek in the content of Data Quality Issues Section: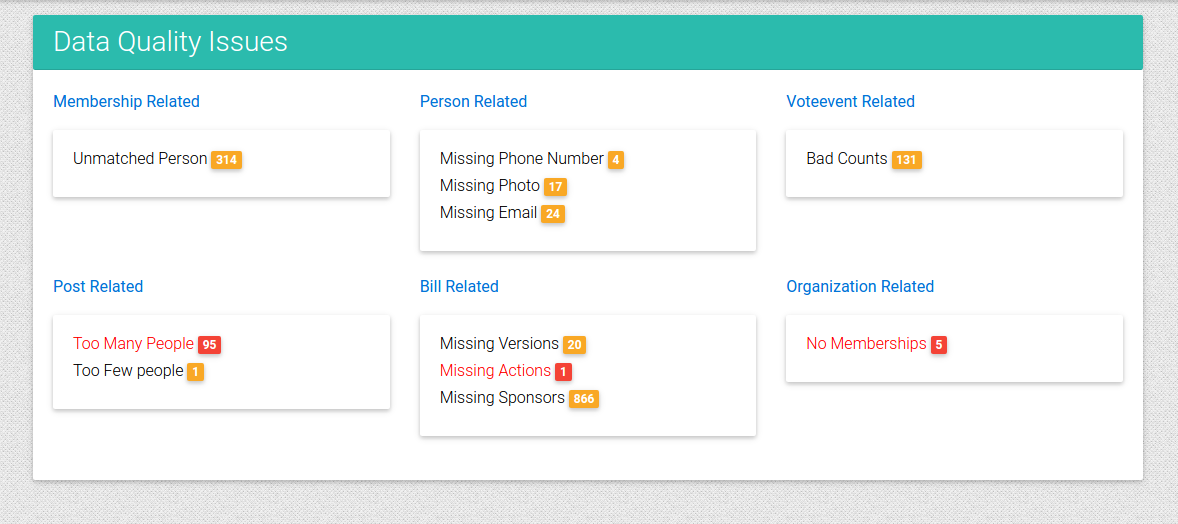 Built Name Resolution Tool to resolve the name discrepancies in bill sponsors/voters/organization members.

Built Retirement Tool to retire legislators which are not longer active.

Built Merge Tool, so that similar legislators can be merged.

Implemented User Feedback Tool primilary focused on legislators which will allow openstates.org users/admins to report any wrong/missing data.

Wrote Django command to apply changes in the main DB from patches created by openstates.org users/admins.

Finally wrote unit tests for above functionality.
It was very busy last month! But I am glad that I have completed almost all the tasks that were included in the project plan and the Summer of Code is about to finish.
Again, I would like to thank my mentors for guiding me all this way. Let's hope for continued success! You can follow my project on GitHub.
Originally published at blog.openstates.org.
---